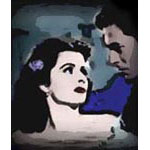 Wickedlady Collectables was established in 2000 and went online early in 2001. We are an online-only shop with two main areas of focus. Vintage and retro clothing and accessories, stockings, lingerie, hats, shoes and bags. Vintage sewing items and dress patterns.
Also advertising items and tins including Huntley & Palmers Biscuits, toffee, tea, cigarette and tobacco, mustard and talcum tins.
However, although our main interest is in the above two areas you will also find many other interesting items on the site, including magazines, film memorabilia, kitchenalia, decor, ephemera and books.
We are based in Yorkshire in the UK. Wickedlady refers to Margaret Lockwood in the 1945 Classic British Movie 'The Wicked Lady'.
Here are some examples of our ever-changing stock.