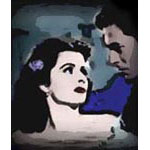 Paypal
Every item on the site has a Paypal Pay now button so if you want to purchase one item this is the easiest and quickest way to pay. For multiple purchases if you want to email me for a combined postage charge I will send you a Paypal money request.
Cheques and Postal Orders
We take cheques (in sterling) drawn on a UK bank. Cheques are payable to 'Wickedlady Collectables' and should be sent to Wickedlady Collectables, PO Box 24, Market Weighton, E Yorks, YO43 3YG. Cheques can take several days to clear. ALL goods will be held until the cheque is cleared by the bank due to the cessation of the cheque guarantee scheme.
UK Postal Orders should be uncrossed and made payable to 'Wickedlady Collectables'
Any cash is sent at your own risk. We do not accept US cheques or international money orders.
Conversion rates
All prices are quoted in GB Sterling, click here for our Oanda currency converter.
Hotmail Addresses
Please note that all enquiries are answered – usually within 2 days. However, hotmail often put previously unknown senders' emails straight in the junk folder so if you think I haven't replied, check there first.